HOME STAGING: PORT MACQUARIE & MID NORTH COAST NSW

Styling a home for sale
"Taking the time to present your home in the best possible way to potential buyers is always worth the investment: in time and money. Without question, a well presented home helps your real estate agent ask for a higher price and means a quicker sale in comparison to poorly presented properties", said Michelle Burton of Designing Divas when Focus Magazine interviewed her to discuss the Home Styling service available to home owners and real estate agents in the Port Macquarie region.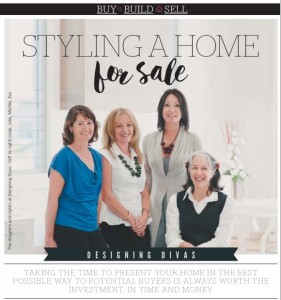 Designing Divas is a design firm specialising in interior design and home styling / property staging throughout the Port Macquarie / Hastings area.
What's involved in Property Staging?
"We look at the property through the eyes of a potential buyer and show the property in the best possible light. Too often sellers still regard the place for sale as their home and what works for them isn't necessarily what a buyer is looking for. Decluttering is usually high on the list of necessary styling tasks along with recommendations for the repair or replacement of easily fixed items like old light fittings or worn carpet. Re-arranging existing furniture, hire of new furniture, additional co-ordinated homewares, artwork and accessories for photography quickly transforms a property. A fresh coat of paint can also do wonders."
Any other tips for getting a property ready for sale?
"Giving the property 'street appeal' and presenting a well maintained backyard and garden are always appreciated. In some cases we may also provide concept plans to show prospective buyers what could be done with an internal layout change, or an addition or alteration to the property for sale."
Is property styling worth the investment?
"Yes. Often, when owners see what a difference property styling (sometimes referred to as property staging) makes to the look and feel of their place they say "It looks so good we'll be sad to leave." Then, when they discover the sale price their real estate has negotiated on their behalf they agree that staging the property was one of the best financial decisions they have ever made." Contact DESiGNiNG Divas for further information or to arrange a visit to the Divas Styling Warehouse and Studio or to receive a Home Styling presentation. See a portfolio of homes property staged for sale in the Port Macquarie area in recent months – click this link
---
"The secret of staying young is to live honestly, eat slowly and lie about your age." Lucille Ball
---