INTERIOR DESIGN STUDIO – PORT MACQUARIE
Make an appointment to visit us at the Diva's design studio and styling warehouse.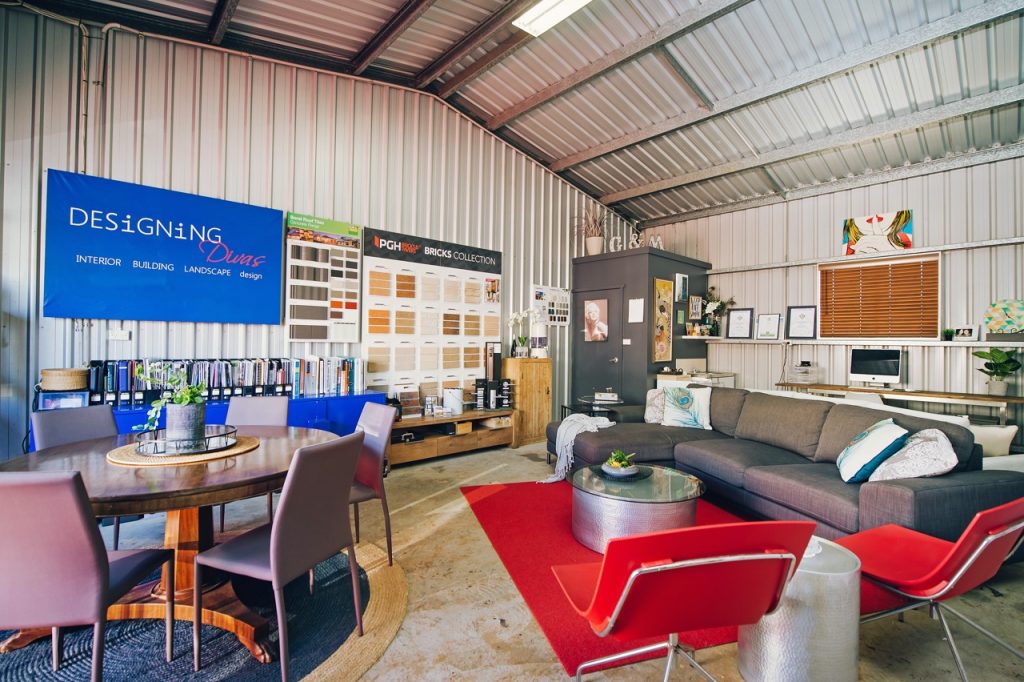 The studio is the perfect meeting place to discuss your design ideas – you can bring along your architect, builder and or real estate agent if they are part of your project. Prior to meeting face-to-face we would have chatted and advised what you may need to bring along such as existing building plans or reference material like magazine photos or colour samples. Depending on your requirements we may have more than one Diva at the meeting. The studio offers supplier samples, brochures and an up-to-date resource library. It is the perfect place to put together colour stories and design schemes, sample boards and the initial design concepts. Because we are in the heart of the Port Macquarie showroom precinct we can always nip out to visit relevant showrooms – kitchen, bathroom, tile, bedroom, lighting and many more, to explore more fully your options. There some great showrooms close to the Diva studio where we have established a good working relationship. We also have suppliers we recommend throughout Australia and overseas.
If you simply want to 'meet and greet' then we can arrange a short, no-obligation meeting at one of our studios – around 30 minutes where we can explain more fully our procedures, services and costs.
Creative design studio: 16 Karungi Crescent, Port Macquarie. Meetings are by appointment only.
Ancillary studio: 16 Milton Circuit, Port Macquarie Meetings are by appointment only.
PORT MACQUARIE SHOWROOMS
If you are building a new home or renovating in the Port Macquarie – Hastings area a huge benefit (apart from a great place to live) is the close proximity of some great showrooms. DESiGNiNG Divas has formed close working relationships with a number of showrooms, which are located close to our design studio in the industrial zone of Port Macquarie. We are available to accompany you to these showrooms to look more closely at a variety of products and finishes, check the stock availability, delivery times, enquire about special offers or any other available options that may not featured in the showrooms at the time. read more
---


"Express your feelings at all times, unless you're trying to hide something." Miss Piggy
---